"Norma Jean"'s
Livejournal
Cryings
Behind Closed Doors
Bad Reputations
This Pixie's Playland
Cobwebs
Heart Pieces
Little Girl Blue


currently viewing:
most recent entries
go: Sounding-out-the-silence

AIM
She-mail
Yahoo!
My Space


Bust
Bitch
Fierce
Heroine Mag
JANE
The Nation
NERVE
The Onion
Village Voice
Washington Square News


Adios Barbie
Alix Olson, Slam Poet
Breeding.The horror
Carmen Baby.
The Conversation
Daughter
The Dick List


ACLU
Barnard CRW
Feminist.com
Guerrilla Girls
Ms
PPFA,Inc.
R.A.I.N.N
Rock The Vote
Safe Horizon NYC
S.E.S.A.M.E
Third Wave Fnd.
V-DAY
VFC


The ABC's of Cocktails
Bad Girls Guide
Best of NYC 2003
Wicked Moon Cards
frenchkitty.com
Internet Bumper Stickers
Retro Crush
Wonder Womans Wonderland


anti_ana
AntiRape
bellydancing
college_v_day
Feminist
girly_action
rape_survivors
realbushes
riot_grrls
sister_spit
subtlesisters
womens_studies




---
FAQ
Birthday List
Color Codes
Create Polls

Customize Journal
Customize Layout Styles
Edit Icons
Friends Past &Present
images
LJ Portal
Manage Account
Style Browser
recent comments
User Information
Update Journal

123Greetings.com
link
link
link
link
link
link
link
link
Norma Jean sitting-Tobey Beach,1949.
Marilyn Wallpaper © Nina 2002-2004
"Blooming"
Best viewed: IE5+ 1024x768
Layout created by:
CherryStyle ©

mood:
cheerful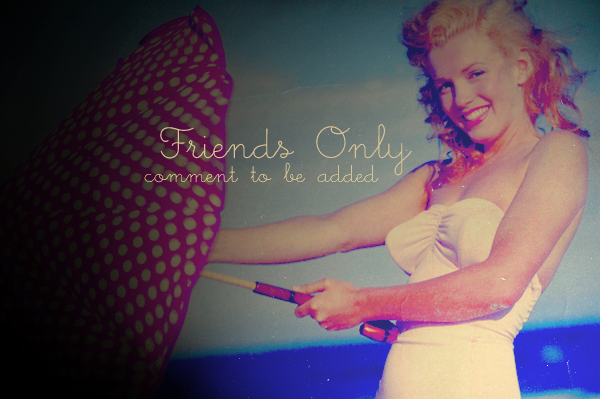 Entries prior to October 2, 2004 are still available as public but a majority of this blog is friends only. Take a look around and leave a comment to be added, or if you prefer simply add me and I should return the gesture (if I have not added you please give me a heads up, so I can do so!) I look forward to reading each and every one of you. *smile*

103 Casual Conversation Killers | Cry Me A River
subject: Rockaby Records

mood:
blah

Baby Rock Record Albums
with a collaboration of musicians
such as Bjork, The Beatles, The Beach Boys, The Cure/ Coldplay, Radiohead,Tool, Metallica, Pixies, Pink Floyd, Smashing Pumpkins, misc. bands created several cds with instrumental lullabies for babies(or adults!) its pretty good stuff. Also:
Baby Rock Records on Myspace
Radiohead Smashing Pumpkins Metallica Led Zeppelin
Paranoid Android
Today
Fade To Black
DAZED AND CONFUSED
Karma Police
This is the most recent cd from ROCKABYE BABY (and the only reason the tracklist is below) but just because its posted here doesnt make it my favorite actually several previous albums are absolutely fabulous;
(Radiohead, Tool, Metallica, and twenty others)
Albeit I love the rolling stones but was less impressed with this however still check out and preview the other musical lullaby masterpieces at the website.
Rockabye Baby! Lullaby Renditions of The Rolling Stones




"Do baby's cries mean you can't get no satisfaction? When bedtime isn't on your side, the music of the Rolling Stones is. Their legendary anthems are as sweet as brown sugar. These gentle instrumentals will be any mother or father's little helper. You can always get what you want with this album. Just start it up."

Tracklist :
(click on song to hear a sample)
You can purchase the CD here
Cry Me A River
subject: 'Grief, Tragedy, and Sympathy Industry"….GEORGE CARLIN

mood:
mischievous

This GEORGE CARLIN EXCERPT was modified
from the original BRAIN DROPPINGS text ...



I would like to talk about the 'Grief, Tragedy, and Sympathy Industry"….

The news media are playing a game with you, you're being fed a large ration of other peoples troubles designed to keep your mind off the things that should really be bothering you I guess the media figure if you're sitting around feeling sorry for every sick, injured, or dead person they can scrounge up you'll have less time to dwell on how fucked up your own life is and what bad shape this culture is in. I am not so much opposed to grief as I am to public media grief; my attitude is fuck sick people, and fuck a dead person; unless I know them and if so ill handle it on my own without media guidance to experience sorrow.

Above all I object to the word TRAGEDY. Every time some asshole stops breathing these days it's called a tragedy, the word is being devalued. Just because a man kills his wife, three kids, her lover, his lover, the baby-sitter, the mail man, the Amway lady and the guy from Publishers Clearing House and then blows his brains out doesn't mean a tragedy has occurred. It's interesting. It's entertaining to read about. But it's not a tragedy.

The death of a child is not also automatically a tragedy. Some guy backing over his kid in the driveway is not a tragedy; it's a bad, bad mistake. A tragedy is a literary work in which the main character comes to ruin as a consequence of a moral weakness or fatal flaw. Shakespeare wrote tragedies. A family of nine being wiped out when a train hits their camper is not a tragedy, it's called a traffic accident.

You wanna know what a tragedy is? A tragedy is when you see some fat bastard in the airport with pockmarks on his face and his belly hanging out and he's with a woman with bad teeth and multiple bruises, and that night he's gonna make her suck his dick. That's a tragedy. They don't mention that a lot on TV.

I'm tired of emotional pandering, personal drama, and prurient gossip being presented in the context of real news. The media have elevated the marketing of bathos and sympathy to a fine art but I gotta tell ya, I really don't care about a paraplegic who climbs a mountain and then skies cross country for 50miles, I have no room for a one legged Vietnam veteran who ice skates across Canada to raise money for children's prosthetics; I'm sick of hearing about a baby kept alive on a resuscitator while doctors wait for a kidney to be flown in on a private jet contributed by some corporation seeking good publicity because they just killed six thousand people in Pakistan with a chemical spill.

If the media is going to insist that we know about sick babies and tap-dancing cripples why don't they create a special television program called, "Inspirational Stories?" That way I can turn the fucking thing off. I'm tired of people battling the odds. Fuck the odds and fuck the people who battle them.



3 Casual Conversation Killers | Cry Me A River
subject: Ann Cunter

mood:
chipper

i'm visiting family on the coast of concervative California
anyway recently remembered this incident so for my own reference and your amusement



pied at a speaking engagment by local college students (they should have taken target practice)
currently viewing: most recent entries
go: Sounding-out-the-silence